Home
Welcome to Flow Free Solutions.
Solutions and Answers to All the Flow Free and
Bridges Games Puzzle Levels that are on iOS, Android,
and Online are here!

A Walkthrough of each solution has been created for easy readibility.
Daily Puzzles!
You asked and now we have them! The daily puzzles for Flow Free and Flow Free: Bridges!
Daily Puzzles
Feel free to donate to Flow Free Solutions
to help the site keep on delivering the best solutions to Flow Free games!
Recommended Games:
Pair Away
A Simple and Addicting Game where you Match Pairs, Collect Themes, Unlock Levels, Track Stats, and Play Endlessly.

Pair Away is a simple matching game for anyone to play.
Levels can be played in a short amount of time, and great for filling any extra minute.

The game starts out simple with only a few types of pairs, but quickly gets harder as you unlock more difficulty levels.
Challenge your friends on immortal mode by endlessly matching pairs to obtaining the highest score.

As you collect pairs, you can unlock and use themes when you play each level.
Track your stats and achievements as you play and compare with your friends.


Play it Now: Pair Away
Squares: Matching with a Twist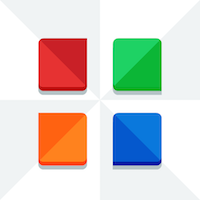 Squares is matching... with a twist. Literally. Rotate the board to experience matching like never before! Squares also introduces bars which add a new layer to gameplay. By blocking matches, a bar brings havoc to the game. Matching around a bar is the only way to remove them from the board, and doing so will earn you even more points! Rotate often and strategically match to position bars to be removed to become a squares master!

Play it Now: Squares: Matching with a Twist
Tens and Twos Free
Tens and Twos Free is the free edition of Tens and Twos.

It is a great classic card game that is very addicting.

Check it out on the app store!

Play it Now: Tens and Twos Free
Keywords
Flow, Free, Bridges, Solutions, Daily, Answers, Cheats, Walkthrough, Help, Game, Pack, Link, Lösung, Regular, Starter, Mania, Extreme, Challenge, Bonus, Green, Blue, Yellow, Kids, Rainbow, Jumbo, Purple, Pink, iOS, iPhone, iPad, Android, App, Play, Store, Online, 5x5, 6x6, 7x7, 8x8, 9x9, 10x10, 11x11, 12x12, 13x13, 14x14